The Super News
Rain....blah. We have been on the wet side most of the season with a near-record rainfall of 526 mm (21 inches). This amount of rainfall had a significant impact on the quality of the cart paths (basically undoing the repairs) and the drainage on the driving range.
The proposed plan this fall will focus on improving drainage on the driving range to minimize the number of days the range is unavailable to players next season. We will also be accepting delivery of new leased/purchased equipment and golf carts.
In addition to winterizing our existing equipment, we will be refurbishing and painting the water stations, select tee markers, small benches and assisting with Proshop and Clubhouse improvements.
We are currently blowing out the irrigation system and repairing any leaks. Leaf blowing/mulching will continue daily as we head into winter. In preparation for springtime runoff, work will continue on improving the drainage ditches.
The last cuts are this week (fairways/tees/aprons/rough), and the course will close Sunday October 29th. Fungicide application will happen immediately after closing as well as cross line aeration and tarping of all greens.
Have a great winter and see you next season!
Greg Hollins, Course Superintendent
Nor'Westor clubhouse Lounge
The season is coming to an end, but the spectacular fall views provide a great backdrop for lunch or a beverage after your round. We are still offering a limited menu and Chef Graham will have soup, sandwiches and food specials in the Club Lounge.
The beverage cart is no longer available for the season.
Lounge hours:
Noon to 5pm Monday through Friday
10am to 6pm Saturday and Sunday
The Lounge will close for the season Sunday October 29th.
Keli Foglia, Director of Member Services
Golf Passes
Reminder: Any passes issued prior to 2017 will expire at the end of this season. Going forward, all passes issued can be used no later than the date of expiry as indicated on the pass.
Starters wanted
The Vice President of Golf, Grant Lilley and our Head Professional Craig, will continue to monitor and track golf rounds and market trends. Starters will be in place during times of high course utilization to record trends of green fee players and members.
We would like to increase our volunteer pool so that we can implement this successfully. Members or non-members can earn clubhouse credits towards green fee passes or golf carts based on the number of hours you volunteer.
If you are interested or know of anyone who might be, please contact the Pro Shop.
THE Pro Shop
The 2017 season had many challenges as a result of the weather. Despite the number of rainy days, our members enjoyed 25,000 rounds of great golf and our guests 3000 rounds.
FWGCC hosts approximately 24 open tournaments annually, hosting close to 1000 people in this social and active pass time.
Our goal is to provide our members and guests, our customers, quality and affordable golf and golf instruction, fun activities and good quality merchandise. In addition, our professional staff are eager to make golf an enjoyable social experience.
The 2018 season planning is well underway. There will be a variety of member golf tournaments to look forward to.
Planning for golf clinics, club fitting and demo days are on the agenda as is golf and dining special events.
On behalf of Assistant Golf Professional Jimmy Szturm, the boys in the backshop and myself, we would like to thank you for your support this season and we look forward to an exciting and enjoyable 2018 golf season!
the junior development program
Our mission is to provide all children the opportunity to learn and play the game of golf. The junior program is focused on instilling the concept that golf is "More than a game".
This is accomplished through a comprehensive education and development program delivered by golf Pro's and our program volunteers.
Through golf, our purpose is to instill positive life values in young golfers, including honor, integrity, work ethic, self-discipline, pride, respect, responsibility, sportsmanship and perseverance.
This year was largely successful with close to 50 juniors enrolled in the program, sponsored by Paul Fitzpatrick, MNP.
We are excited to continue to develop our youth with the junior development program in 2018!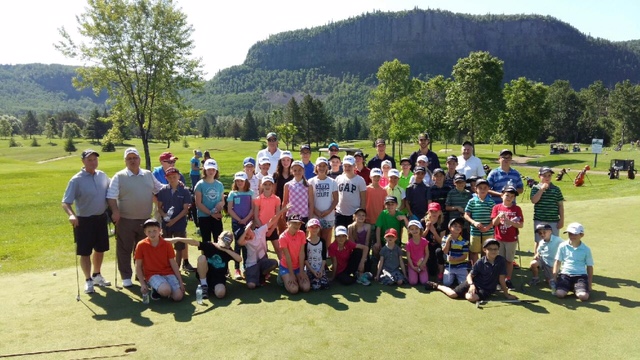 Craig Morton, Director of Golf
Code of Conduct
Please review the FWGCC Code of Conduct with your young golfer, follow the link below.